CHOC-DIPPED APPLE PARTY POPS
Prep 15 mins | Cook 2 mins | Makes 8
Great for school fetes and celebrations, these pops can be stored in the fridge for up to 1 day. You'll need 8 paddle-pop sticks for this recipe.
8 small Pink Lady or Royal Gala apples
375g dark or milk chocolate melts
Hundreds & thousands or crushed peanuts, for dipping
STEP 1 Line a baking tray with baking paper. Insert a paddle-pop stick into the core of each apple.
STEP 2 

Melt chocolate melts, following packet directions, in a small deep heatproof bowl. Dip an apple, halfway into the melted chocolate and rotate to coat. Drain any excess chocolate. Sprinkle chocolate with hundreds & thousands or crushed peanuts and place onto the tray to set. Repeat using remaining apples.
Good for you … PINK LADY APPLES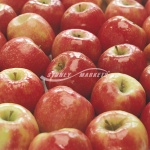 A good source of dietary fiber that helps keep us regular.
Provide vitamin C. Among its many functions, vitamin C contributes to collagen which plays a role in healthy gums, teeth, bones, cartilage, and skin.
Low GI (less than 55) which means the natural sugars in apples are slowly digested to glucose.
Date

June 26, 2019

Tags

Desserts