GREEN VEGGIE MINESTRONE WITH BASIL & PARMESAN OIL
Preparation 30 mins | Cooking 45 mins | Serves 4-6
1 tbs olive oil
1 leek, trimmed and thinly sliced (white part only)
3 garlic cloves, finely chopped
1 long green chili, deseeded and chopped
2 celery sticks (including leaves), thinly sliced
300g zucchini quartered lengthways and sliced
1 large potato, peeled and diced
6 cups chicken or vegetable stock
400g can cannellini beans, drained and rinsed
75g baby spinach leaves, chopped
350g green peas, podded
Char-grilled bread, to serve
Basil & parmesan oil: 
1 cup basil leaves (+ extra to serve)
½ cup finely grated parmesan (+ extra to serve)
50ml extra virgin olive oil

STEP 1 To make basil & parmesan oil, place basil and oil in a small food processor. Process until finely chopped. Stir in parmesan. Stir in parmesan and set aside.
STEP 2 Heat oil in a large saucepan over medium heat. Add leek, garlic, chili and celery, and cook, stirring often, for 5 minutes until leeks soften.
STEP 3 Add zucchini and potato and cook, stirring often, for 5 minutes. Add stock, cover and bring to the boil over medium-high heat. Reduce heat and simmer, stirring occasionally, for 20-25 minutes until vegetables are tender. Add cannellini beans, spinach, and peas. Simmer for 5 minutes. Stir through half of the basil and parmesan oil.
STEP 4 Ladle soup into bowls. Drizzle with remaining basil and parmesan oil. Sprinkle with parmesan and basil and serve.
Good for you … BLACK ZUCCHINI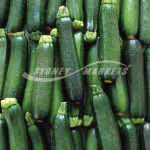 A source of vitamin C and folate.
Vitamin C helps us absorb iron from foods and both these vitamins contribute to the normal functioning of the body's immune system.
Dark green varieties contribute some beta carotene, an antioxidant pigment which the body can convert to vitamin A.
Recipe courtesy of Sydney Markets 
Date

August 13, 2019

Tags

Dinner, Lunch