HONEY-SPICED ROASTED VEGGIES
Prep 15 mins | Cook 35 mins | Serves 4 as a side dish
These delicious roasted vegetables team well with chicken, lamb, and fish. Scatter with fresh pomegranate seeds just before serving if liked.
Ingredients 
350g small Brussels sprouts, trimmed
2 bunches Dutch carrots, peeled, trimmed and halved lengthways
1/2 cauliflower, trimmed and cut into bite-sized florets (about 450g)
¼ cup extra virgin olive oil
1 tbs honey
2 garlic cloves, crushed
1 tsp ground cumin
1 tsp ground coriander
1/3 cup flat-leaf parsley, chopped
1/3 cup roasted almonds, chopped
Sriracha yoghurt:
1/3 cup Greek-style natural yoghurt
2 tbs lime juice
2 tsp (or to taste) Sriracha sauce*
STEP 1 Preheat oven to 200°C fan-forced. Cut a small cross into the base of each Brussels sprout. Place sprouts, carrots and cauliflower onto a large roasting tray (or use 2 trays) lined with baking paper.
STEP 2 Combine oil, honey, garlic, cumin and coriander in a screw-top jar. Season with salt and pepper. Shake until well combined. Drizzle mixture over vegetables and toss to coat. Roast, tossing once, for 30-35 minutes until vegetables are just tender. Set aside to cool to room temperature.
STEP 3 To make the sriracha yoghurt, place all ingredients in small bowl. Season with salt and pepper. Mix until combined.
STEP 4 Sprinkle roasted vegetables with parsley and roasted almonds. Serve with the Sriracha yoghurt.
* Sriracha is a very hot chilli sauce available at QE Foodstores 
Good for you … BRUSSELS SPROUTS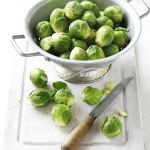 Close to the top of the class for all-round nutrition, supplying dietary fiber, potassium and a range of vitamins (beta carotene, C, E and the B vitamins, thiamin (B1), riboflavin (B2), B6, folate and pantothenic acid).
Beta carotene is converted to vitamin A in the body and is important for normal vision while it also contributes to the normal functioning of the immune system – as do vitamins B6, C and folate. Vitamin E helps protect cells from damage due to free radicals.
Vitamins B1, B2, B6, and pantothenic acid are all involved in normal energy metabolism.
Recipe courtesy of Sydney Markets