MOROCCAN ROASTED EGGPLANTS WITH LAMB
Prep 20 mins | Cook 1 hr 10 mins | Serves 4
Ingredients
2 x 400g plump eggplants, halved lengthways
2 tbs olive oil
1 brown onion, finely chopped
1 carrot, finely chopped
3 garlic cloves, finely chopped
400g minced lamb
2 tsp Moroccan spice mix
400g can diced tomatoes
½ cup flat-leaf parsley leaves, chopped
Olive oil spray
½ pomegranate, seeds removed
75g crumbled feta
¼ cup small mint leaves
Extra virgin olive oil and lemon wedges, to serve
Step 1 Preheat oven to 180°C/160°C fan-forced. Scoop flesh from eggplants, leaving a 1cm-thick border of flesh (do not damage the skin). Finely chop eggplant flesh. Set eggplant flesh and eggplant cases aside.
Step 2 Heat oil in a large frying pan over medium-high heat. Add onion and carrot and cook, stirring, for 4-5 minutes until tender. Add garlic, lamb, eggplant flesh and Moroccan spice and cook, breaking up the mince using a wooden spoon, for 5 minutes or until lamb is evenly browned. Stir in tomatoes and parsley. Season with salt and pepper to taste. Bring to the boil then reduce heat and simmer, stirring occasionally, for 4-5 minutes or until pan juices evaporate. Set aside to cool slightly.
Step 3 Spoon lamb mixture into eggplant cases. Spray liberally with olive oil. Place eggplants in a single layer into a large baking pan lined with baking paper. Bake for 50-55 minutes until bubbling and eggplant are tender. Sprinkle with pomegranate seeds, feta, and mint. Drizzle with extra virgin olive oil. Serve with lemon wedges.
Good for you … EGGPLANT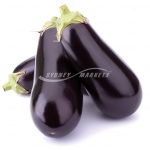 A good source of dietary fiber, which contributes to normal bowel function.
A good source of vitamin B6 that plays a role in hundreds of biochemical reactions in the body, including contributing to energy metabolism.
The purple skin is a rich source of antioxidants
Recipe courtesy of Sydney markets